Nous sommes heureux d'annoncer la sortie de deux nouveaux modèles de Taylor Guitars conçus avec le studio de conception de jeux Naughty Dog pour transposer dans le monde réel l'inspiration musicale de The Last of Us Part II.
Les fans de The Last of Us de Naughty Dog reconnaîtront l'importance de la musique dans l'histoire de la franchise. La musique reste un thème récurrent dans la suite, dont la sortie est prévue pour le 19 juin 2020. Ellie, l'héroïne et la courageuse survivante de The Last of Us Part II, joue une guitare acoustique dans le jeu. Chez Taylor, nous n'aurions pas pu être plus enthousiastes pour aider à faire de cette guitare une réalité, ainsi qu'un modèle GS Mini en édition limitée.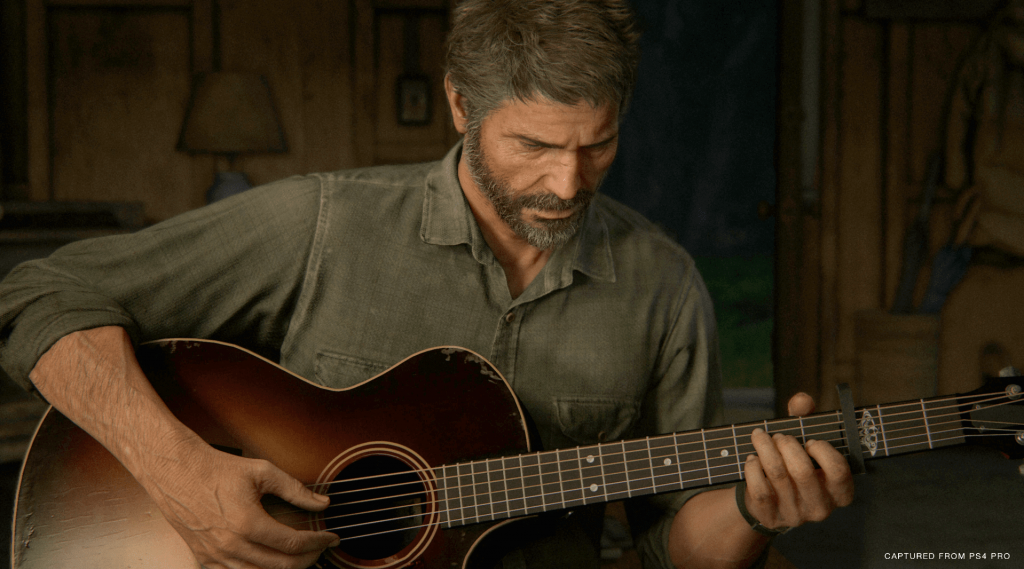 ---
The Last of Us Part II Acoustic Guitars de Taylor
Conçue pour évoquer des moments musicaux intimes dans The Last of Us Part II, cette édition limitée 314ce est une recréation individuelle de la guitare d'Ellie tirée du jeu. Cette guitare Grand Auditorium est fabriquée avec un dos et des éclisses en sapelli massif recouvert d'épicéa de Sitka, une combinaison de bois éprouvée qui produit chaleur, punch et clarté dans un équilibre harmonieux tout au long du spectre sonore. Le barrage de classe V optimise la guitare pour augmenter le volume sonore et assurer un long et pétillant sustain, tandis que la forme du corps et le design du manche Taylor, marque de fabrique de la guitare, procurent une sensation de douceur et de confort, quel que soit le type de musique que vous jouez. Sur le plan esthétique, la guitare est traitée avec un séduisant sunburst de tabac qui se termine par une finition du corps tout en brillance, plus une rosace à deux anneaux, un protège-pic en fausse écaille de tortue et une incrustation Moth personnalisée du jeu. Il est livré avec des composants électroniques ES2 intégrés dans un boîtier Taylor de luxe en coque dure.
---
Notre famille de guitares GS Mini continue d'inspirer les joueurs de toutes tailles et de tous styles grâce à son corps réduit et à sa sonorité percutante et vibrante. Ce modèle en édition limitée présente un dos et des côtés en saphir stratifié avec une table d'harmonie en acajou massif pour une réponse puissante caractérisée par un médium charnu et des aigus clairs. Les équipements standard tels que les incrustations de touches de 4 mm, une fausse protection en écaille de tortue et des accordeurs en chrome moulé sous pression sont compensés par un superbe motif botanique qui reflète le tatouage d'Ellie de The Last of Us Part II, ainsi que le logo du jeu assorti à l'emblème de Taylor sur la poupée et une finition noire brillante. Ce modèle acoustique est livré avec un sac de transport en coque rigide pour faciliter le transport et la protection.