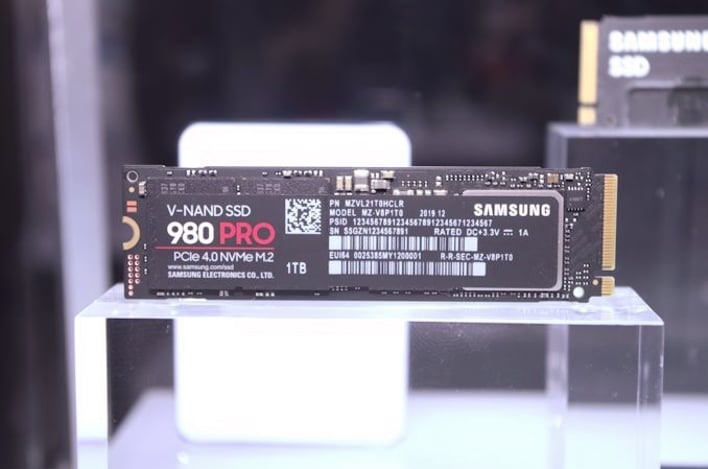 Au CES 2020, nous avons eu un premier aperçu du prochain 980 Pro SSD de Samsung. Jusqu'à présent, les SSD grand public les plus rapides de Samsung utilisaient l'interface PCIe 3.0, mais le 980 Pro utilisera la nouvelle interface PCIe 4.0 prise en charge par les chipsets X570 et B550 d'AMD.
Nous n'avons pas reçu de date de lancement exacte pour le 980 Pro lorsqu'il a été annoncé initialement, mais un fabricant de matériel fiable, Ice Universe, affirme que la famille des SSD sera lancée dans les deux prochains mois. Il semble donc que le pire des scénarios soit que le 980 Pro arrive à la fin du mois d'août.
Samsung 980 Pro SSD will be released within two months, you will see the super performance of real PCIe 4.0 SSD.

— Ice universe (@UniverseIce) June 10, 2020
Cependant, la 980 Pro vaudra la peine d'attendre en raison des spécifications que Samsung réclame pour le lecteur. Samsung promet des lectures séquentielles maximales de 6,5 Go/seconde, tandis que les écritures séquentielles seront de 5 Go/seconde. Pour mettre cela en perspective, le 970 Pro basé sur la norme PCIe 3.0 prévoit des valeurs de 3,5 Go/sec et 2,7 Go/sec. Il s'agit d'un bond considérable en termes de performances en une seule génération, qui sera certainement bien accueilli par les joueurs et les amateurs de matériel.
Selon Samsung, la 980 Pro sera disponible dès son lancement avec des capacités de 250 Go, 500 Go et 1 To. Pour l'instant, nous n'avons aucune idée du prix des SSD, mais le 970 Pro de 1 To peut être obtenu pour 319,99 $ sur Amazon.
Le nouveau 980 Pro n'est pas le seul SSD impressionnant qui est en préparation chez Samsung. En début de semaine, nous vous avons présenté la nouvelle famille de SSD 870 QVO de Samsung, qui n'a pas encore été annoncée, mais qui a quand même réussi à faire son apparition sur Amazon. La star de l'émission est le MZ-77Q8T0B/AM, qui dispose d'un espace de stockage de 8 To. La plupart des gens ne se soucieront même pas que le SSD soit basé sur SATA III, car cette grande capacité et des performances [probablement] d'environ 550 Mo/sec et 520 Mo/sec (lecture/écriture séquentielle) devraient être assez rapides pour le stockage de masse. Lorsque le 8TB 870 QVO sera lancé, son prix sera de 899 dollars.
Tags:  Samsung, SSD, (krx:005930), pcie 4.0, 980 pro